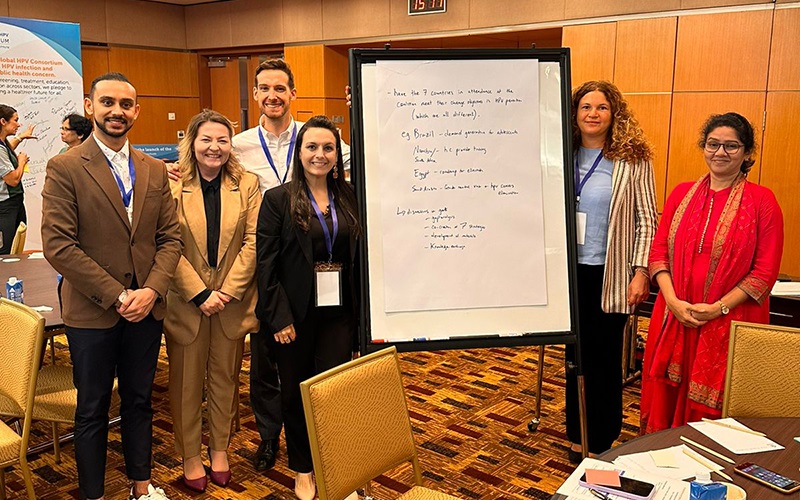 Launching the Global HPV Consortium: Working Together to Prevent HPV & Eliminate Cervical Cancer
On September 5 – 6, 2023, the Global HPV Consortium has been launched in Kuala Lumpur, Malaysia. The Sabin Vaccine Institute has led the Consortium and served as the Secretariat. The WFPHA, represented by its Executive Manager, Dr Marta Lomazzi, has attended this event.
In alignment with World Health Organization's (WHO) Immunization Agenda 2030 and Cervical Cancer Elimination Initiative, the Consortium serves as a worldwide public and private collaboration focused on accelerating the prevention of Human Papilloma Virus (HPV) and eliminating cervical cancer as a public health concern.
During the event, Anuradha Gupta, President of Global Immunization at Sabin, emphasized the need to revolutionize global public health by crafting a strategic roadmap to enhance access and adoption of HPV prevention tools, including vaccines, screening, and precancerous lesion treatment. Dr Lomazzi has emphasized the importance of ensuring universal access to gender-neutral HPV vaccination across all nations.
Cervical cancer claims the lives of approximately 350,000 women annually, with over 600,000 affected each year. This largely preventable disease primarily impacts low- and middle-income countries with limited secondary prevention resources, such as screening and treatment. Without intervention, cervical cancer is projected to surge by almost 50% by 2040. Despite the HPV vaccine's availability for 17 years, its uptake remains low, exacerbated by the pandemic.
The Consortium has united diverse public and private stakeholders, including those focusing on vaccination, cancer control, non-communicable diseases, HIV, reproductive and adolescent health, gender equity, and women's empowerment. Country leaders, policymakers, implementers, researchers, youth advocates, women champions, non-profits, and industry representatives, including manufacturers of vaccines, syringes, cold-chain, diagnostics, and therapeutics, have joined the launch.
The WFPHA is excited to support the Consortium to work together to prevent HPV and eliminate cervical cancer.