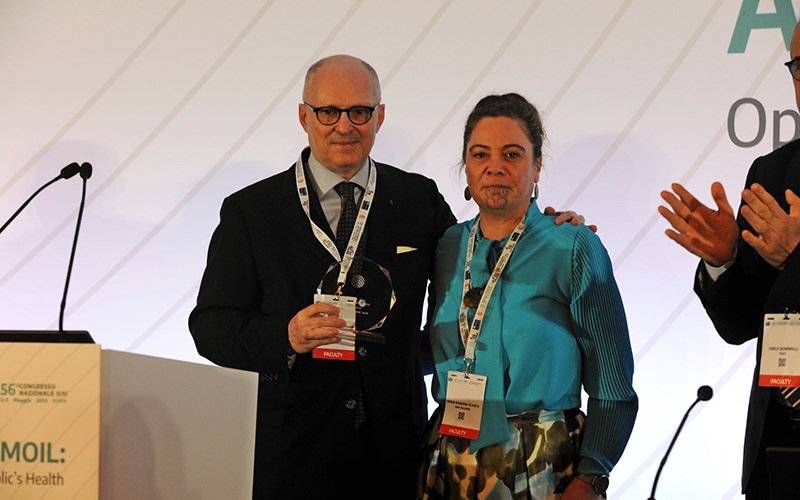 Hugh R. Leavell Award 2023
The Hugh R. Leavell Award is the highest honor bestowed by WFPHA. It is a true accolade of the profession, the recognition by an individual's colleagues of her or his outstanding accomplishments in the field of global public health leadership. This award is presented at the World Congress on Public Health.
The WFPHA established this award as a memorial to one of its founding members, Dr Hugh Rodman Leavell (1902-1966). Dr Leavell was Executive Secretary of the WFPHA from 1968 to 1972. He was responsible for many of the early developments of the WFPHA, including its recognition as a non-governmental organization in official relations with the World Health Organization (WHO).
During 17th World Congress on Public Health (WCPH), the WFPHA has the honor to present the Hugh R. Leavell Award 2023 to Prof. Walter Ricciardi.
As a professor of Hygiene, Preventive Medicine and Public Health at Università Cattolica del Sacro Cuore of Rome since 2000, Prof. Ricciardi has been involved in several national and international commitments. He is the President of the Mission Board for Cancer of the European Commission and chairing the Scientific Committee of Human Technopole Foundation.
Prof. Ricciardi is also the Founder and Director of the Italian Observatory on Healthcare since 2002, which is an essential resource for monitoring the Italian healthcare system. He has also been an advisor to the Italian Minister of Health during the COVID-19 pandemic, providing strategic advice since the beginning and shaping the national response to the pandemic in terms of interventions.
Moreover, Prof. Ricciardi has held several prominent positions in the public health sector, including being the President of the European Public Health Association (EUPHA) from 2003 to 2004 and from 2010 to 2014, and the President of the WFPHA from 2020 to 2022. He was also a member of the Executive Board of the WHO from November 2017 to May 2020.
Throughout his career, Prof. Ricciardi has changed the vision of public health by emphasizing the importance of communication, leadership, networking, and team building at different levels. He has also been recognized for his outstanding contributions to public health, including receiving the "Laurea Honoris Causa" at Thomas Jefferson University in Philadelphia, USA, in 2019 and being appointed "Commendatore" of the Italian Republic in 2017.
Overall, Prof. Walter Ricciardi is an outstanding researcher and representative of the public health sector, not only in Italy but also globally. He has dedicated his career to improving public health, and his contributions have been widely recognized. The Hugh R. Leavell Award is a well-deserved recognition of his outstanding achievements and contributions to public health, and we congratulate him on this remarkable accomplishment.