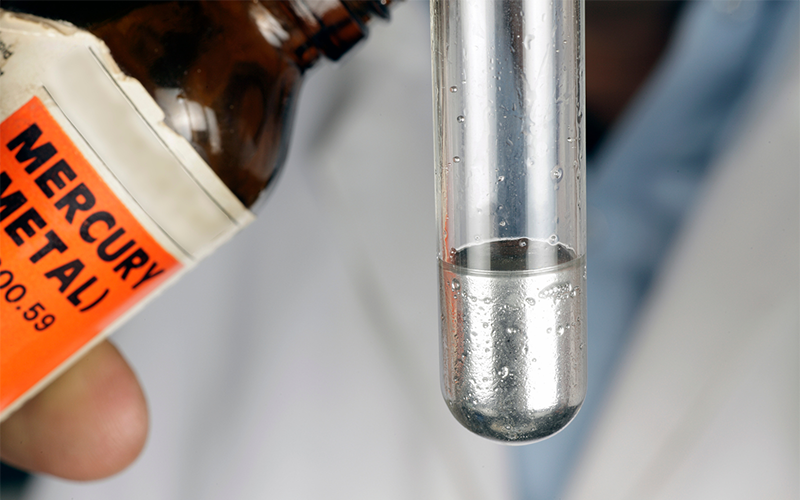 5th Meeting of the Conference of the Parties to the Minamata Convention on Mercury
Edited from the Earth Negotiations Bulletin
The Minamata Convention on Mercury, which is an international treaty, was adopted on October 10, 2013 and entered into force on August 16, 2017, and governments committed themselves to protecting human health and the environment from mercury and mercury compounds.
Mercury, as a naturally occurring element, can be released into the air and water through the weathering of rock containing mercury ore or through human activities such as industrial processes, mining, deforestation, waste incineration, and burning fossil fuels. Mercury-containing products such as dental amalgam, electrical applications, laboratory and medical instruments, batteries, antiseptic and antibacterial creams, and skin-lightening creams can also release mercury.
Effects on fetal neurological development, lowered fertility, brain and nerve damage, and heart disease have been linked to exposure to mercury. The Minamata Convention bans new mercury mines and calls for the phase-out of existing ones. It also contains control measures on emissions and products containing mercury and the regulation of mercury use in artisanal and small-scale gold mining. The Convention also addresses interim storage of mercury and its disposal once it becomes waste, sites contaminated by mercury, and health issues.
This year, when parties to the Minamata Convention convened for the 5th meeting of the Conference of the Parties (COP-5), while commemorating the 10th anniversary of the Convention, they discussed further actions that will help make the promise of this treaty a reality. COP-5 took place in Geneva, Switzerland, from October 30 to November 3, 2023. Over 846 delegates participated in person, and for the first time, the meeting was broadcast via livestream to 900 viewers, with the recordings available following each plenary session. The Convention currently has 147 parties.
Parties agreed to update Annexes A and B of the Convention to list phaseout dates for certain types of batteries, switches and relays, fluorescent lamps, and cosmetics, and mandate the phaseout of mercury as a catalyst in polyurethane production by 2025. They also agreed on language declaring mercury-free processes for production of sodium or potassium methylate or ethylate to be technically and economically feasible. However, efforts by the African Group and other parties to agree on a phaseout of dental amalgam, which is still widely used for dental fillings, did not achieve consensus. The final decision only requires parties that have not yet phased out dental amalgam to report on how they plan to do so.
A decision on mercury waste thresholds means that countries have a fixed standard now for measuring whether imports and exports contaminated with mercury contain more than the allowed total concentration value of 15 mg/kg. This is important for countries who fear becoming global dumping grounds for mercury-contaminated wastes, as it gives an international standard for deciding whether a shipment should be blocked. It also means that producer nations now have a benchmark for blocking exports of mercury-contaminated waste.
COP-5 applauded the 95% rate of national reporting on what parties have done to meet their obligations under the Convention. Parties welcomed the second review of the Convention's financial mechanism, which provides new guidance to the Global Environment Facility (GEF) and notes that the GEF increased its funding for the Minamata Convention by more than 30% in its latest replenishment. COP-5 adopted the budget and program of work for the 2024–25 biennium, approving a core budget of USD 8.4 million and estimating needs of USD 4.83 million for its Special Trust Fund. COP-5 also saw some emerging themes that are likely to shape the work of the Convention in years to come.
COP-5 accomplished a lot. However, several issues for COP-6 in November 2025 are to be resolved, including phasing out dental amalgam and all mercury-added cosmetics and establishing the feasibility of mercury-free vinyl chloride monomer (VCM) production. COP-6 will also examine the draft guidance on trade, a report on national emission inventories and plans.